Belum Caves and Gandikota Fort are just a couple of hours drive from my native. But I had no clue until a friend told me about them sometime in the last week of May. After googling for pics, routes and other details for a couple of weeks, I set out with couple of my friends to these places.
Based on multiple inquiries, we decided to take the Bangalore-Penukonda-Dharmavaram-Tadipatri route to Belum Caves. Since all our resources mentioned that this is a two day trip, we decided to visit Gandikota Fort only if time permits.
The start:
This was my plan:
Start from my place (Thyagarajanagar): 5 a.m.
Pick up my friends at Whitefield: 5.30
Exit the city via KR Puram-NH4: 6.30
Reach Belum Caves: 11.30 (including a stopover for breakfast)
Start from Belum Caves: 1-1.30
Reach Gandikota Fort (if time and body permits): 2.30
Leave Gandikota Fort: 3.30
Reach Bangalore/ Whitefield: 9.30 (one hour extra coz of lunch/ tea break and possible rains)
Reach Thyagarajanagar: 10.30 (again half an hour extra coz of traffic)
But then, my plans are not supposed to work. And it showed right from the beginning.
The cab driver was not familiar with the route to my place from his house and he reached my place only by 5.30 a.m. I reached my friend's place by 6 a.m. and exited the city by 7 a.m. despite taking the shortcut of Boodigere-Devanahahalli route.
We stopped at Kamat for breakfast as usual and continued our long, uneventful journey towards Dharmavaram and Battalapalli.
The road from Battalapalli to Nayanapalli cross is narrow and busy. Every time a bus or truck comes from the opposite direction, the smaller vehicle like ours has to move a bit onto the gravel-filled mud road on the side to make way. On one such occassion, we had a flat tyre. Going by the number of puncture shops on that route, I guess this is quite common there. Except for this stretch, the road all the way to Belum Caves was mostly good.
Belum Caves
We reached Belum Caves around 1 p.m. The entrance fee to the caves is Rs.50 per head. Guide services are offered for free. Though there are 3-4 guides there, only one of them can speak manageable English (He is better than some codejockeys and he admits he can barely manage English before you start.). Though we did not inquire about Hindi-speaking guides, since most Andhra-ites I have met know Hindi, I assume all the guides here will also be good at it.
Belum caves was discovered by some Germans and couple of local villagers in 1982. Andhra Pradesh Tourism Development Corporation (APTDC) took over its maintenance in 2002 and developed it as a popular tourist spot.
The specialty of these naturally-formed caves is that they run below the ground level, unlike Borra Caves in Vizag or Antaraganga caves near Kolar. The caves are 3.5 km long, but only 1.5 km is open for public.
I was amazed right from the moment I entered the caves. None of the pictures I saw on the net seemed to have captured their real beauty. Credit has to be given to APTDC for overall maintenance, and specifically for the strategic lighting arrangement inside the caves. Here are some pictures I took. The caves are way too captivating than what you see here.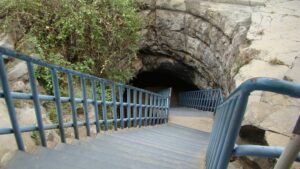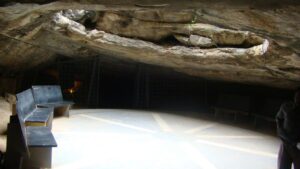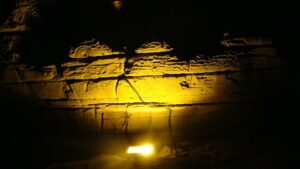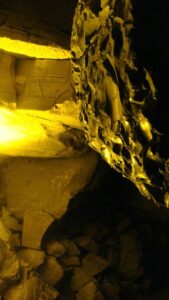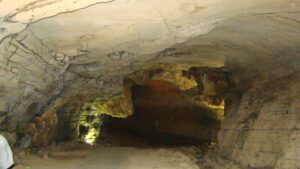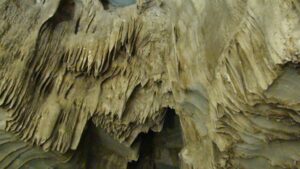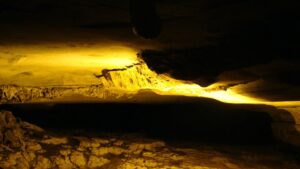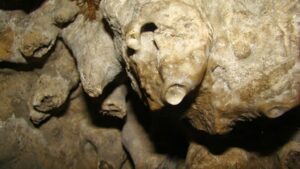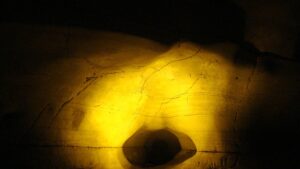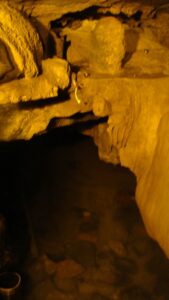 After spending more than hour inside the caves, we were back at the entrance by 2 p.m. The guide was very patient with us and my friend paid him some 100 rs as a token of appreciation. By then we had decided to visit Gandikota Fort as well. But before that we silenced our growling stomach at the restaurant inside the cave campus.
Gandikota Fort
Gandikota is about 60 kms from Belum Caves. We reached Gandikota at about 3.30 pm.
The only reason we wanted to visit Gandikota fort was the Penna Gorge surrounding the fort. The huge rock formation on the other side of the gorge is popularly known as Grand Canyon of India. Unfortunately, this region had not received rains yet and there was hardly any water in the gorge
Here are the few pics of the gorge and some buildings inside the fort complex.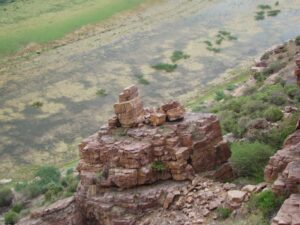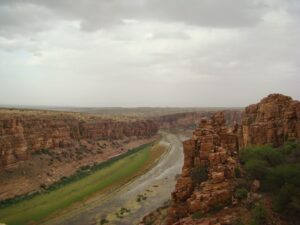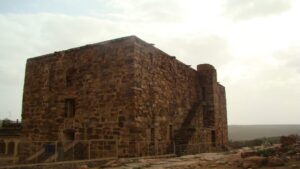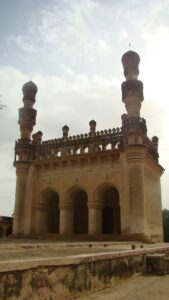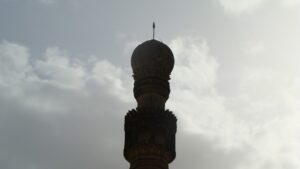 We just spent some half an hour there and decided to come back during monsoon.
Return:
From Gandikota, we took the Muddanoor-Pulivendula route and reached Kadiri by 6.30. We ventured into Pulivendula town in our vain search for a decent hotel to have some snacks, and lost our way back to Kadiri.
We had our evening snacks at Murali Hotel and left Kadiri at 7 p.m. About 25kms of the road from Kadiri to Gorantla is narrow and busy with heavy vehicles, mainly trucks. To add to our woes, there were heavy rains while we passed through that stretch. With all these, we finally managed to reach Whitefield by 10.30.
Route Map:
Bangalore to Belum Caves: Bangalore – Penukonda – Dharmavaram – Tadipatri – Belum Caves
Belum Caves to Gandikota Fort: Belum Caves – Jammalamadugu – Gandikota
Gandikota Fort to Whitelfield: Gandikota – Muddanur – Pulivendula – Kadiri – Gorantla – NH7 – Boodigere-Whitefield
Total distance covered from Thyagarajanagar to Thyagarajanagar: 737 Kms.
Sidewing:
The guy on the Battalapalli – Nayanapalli Cross took 45 minutes to fix our punctured tyre. Apparently, the guys in Bangalore take 10 minutes for this work.
We saw granite stones dumped (yes dumped, not stocked) on both sides of the road from Tadipatri to Belum Caves. In fact, many villagers had built the entire house using granite slabs. And these are houses built by an average income villager on some 15 x 15 plots, not bungalows.
Though there are a few air vents inside the Belum Caves, they are just not enough. We were sweating as if we ran some half-marathon by the time we came out.
The restaurant inside the Caves campus serves delicious, eat-all-you-can Andhra meals for 50 rupees. Just don't miss it.
We did not find a single decent hotel from Gandikota to Kadiri. In Pulivendula, which is in between Gandikota and Kadiri, some hotels are off on Saturday. So, stock up properly.
If you are in Kadiri, ask for Murali hotel. It is a small place, but serves yummy dosa.