This was the 2nd one in the three back-to-back trip series.
The start
Had a couple of hours work in my friend's toy shop at Channapatna. So looked up for some Hoysala temples between Channapatna and Hassan highway and found Budanur, Basaralu and Santhebachalli.
Started from home at 7.30AM as the shop opened at 9.30AM. Wrapped up the work at shop by 10AM and headed to our first stop, Budanuru.
Budanuru
Budanuru has two Hoysala temples, Ananthapadmanabha Temple and Vishweshwara temple. Google Map will take you to the entrance of Ananthapadmanabha temple.
The temple premises is quite big and well-maintained. But I can't say the same about its surroundings.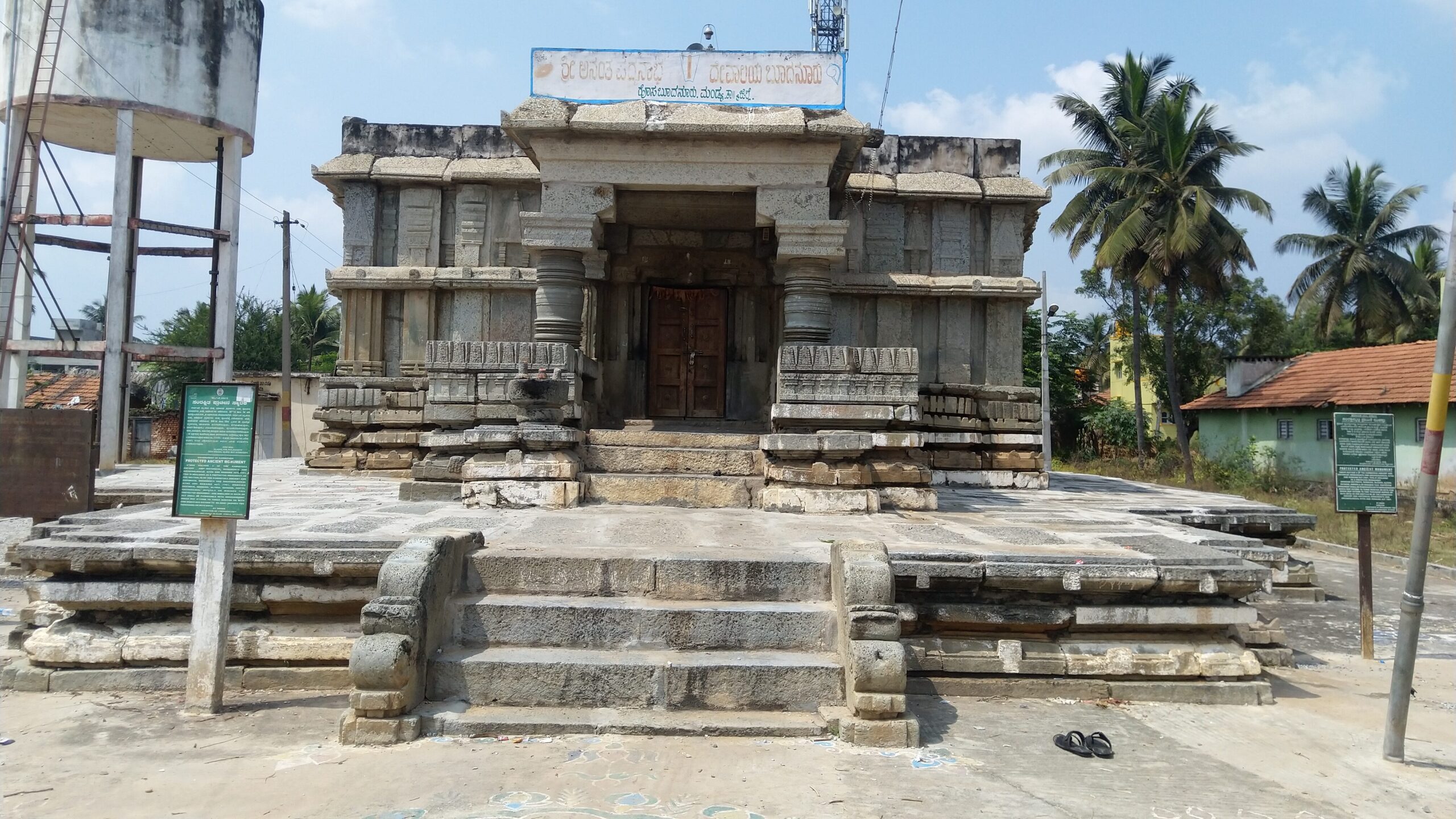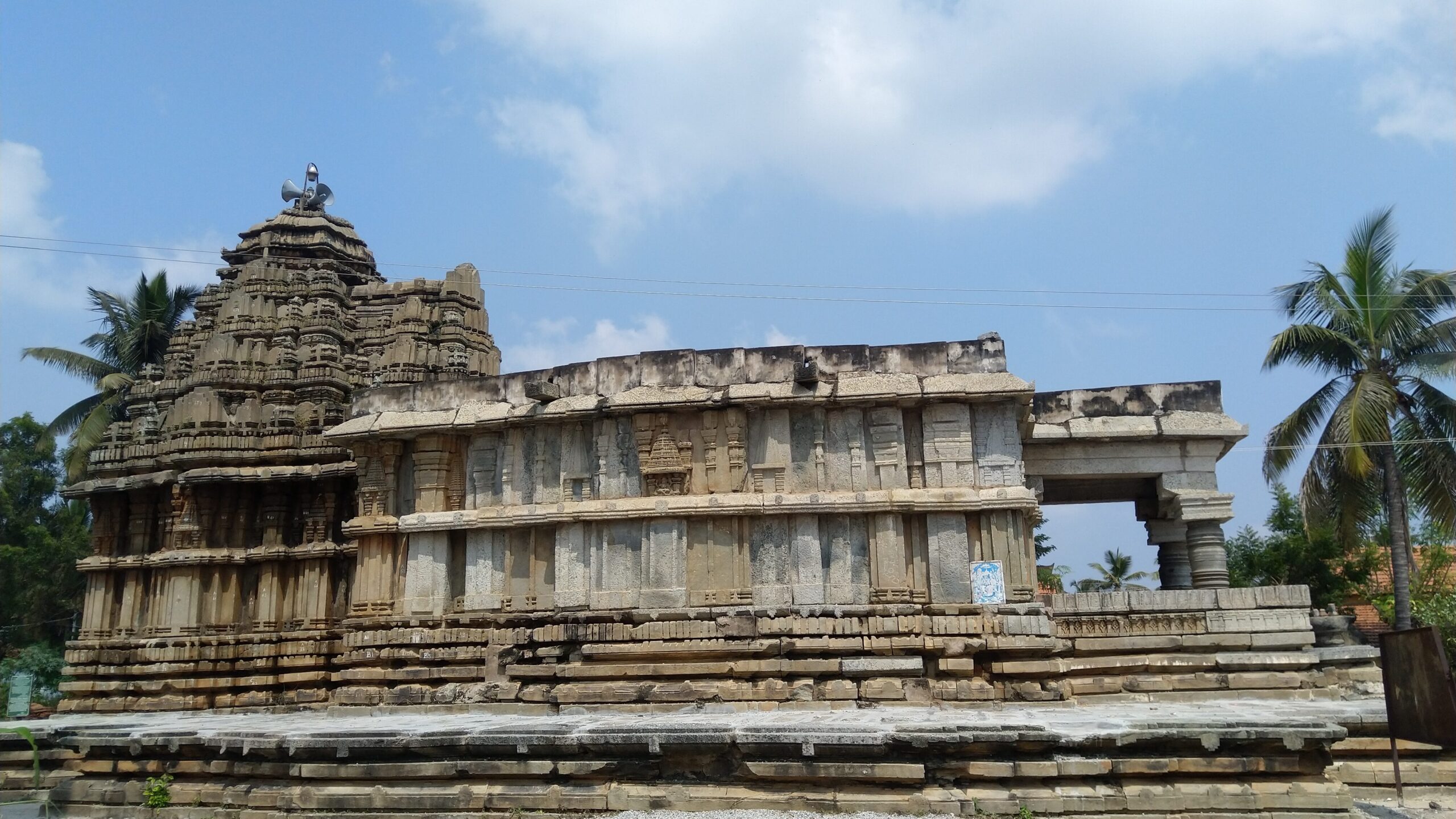 Priest did not turn up at the temple as there was a death in his family. But a villager guided us to a nearby house where temple keys were kept. Someone from the family came and opened temple for us. The only interesting info we got from him (apart from the usual so many year old, deity, etc.) is that there was a tunnel from this temple to Visweshwara temple earlier. I was like, "what is the big deal? The temple is few metres away anyway." Perhaps he meant (or even said and I misheard?) the tunnel from this temple to Basaralu or some other far off temple.
Some photos from the temple.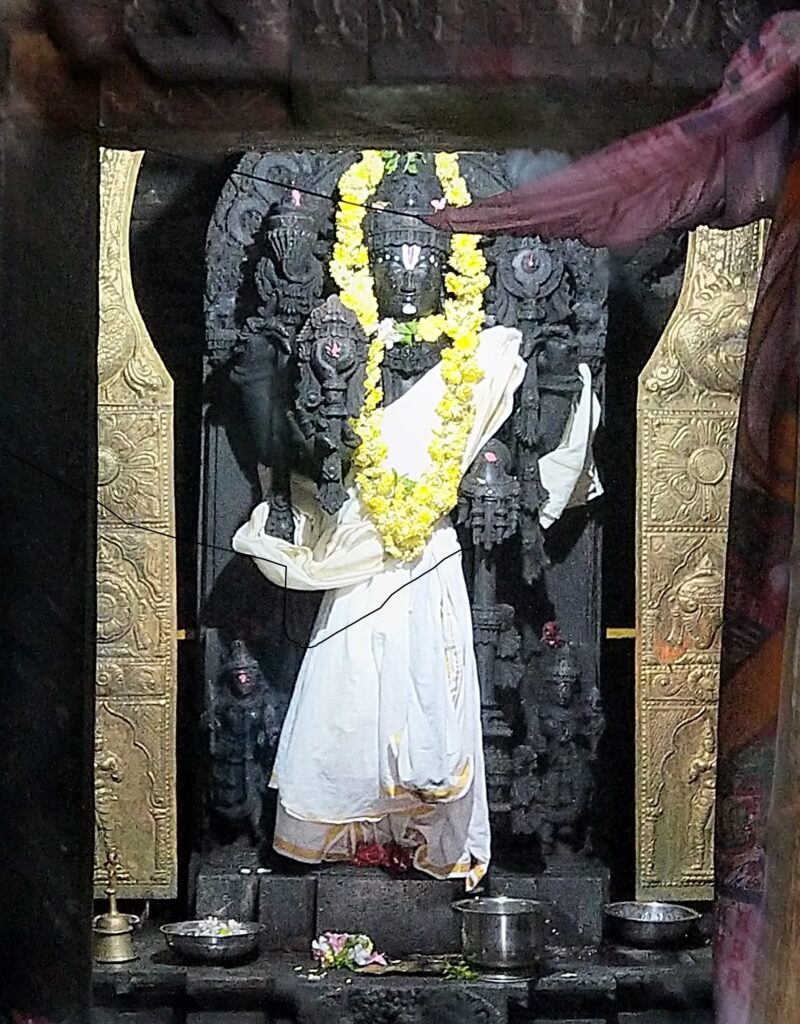 Had to zoom-in in my mobile camera to take pictures. So don't blame just my camera skills for the bad pics this time. 😛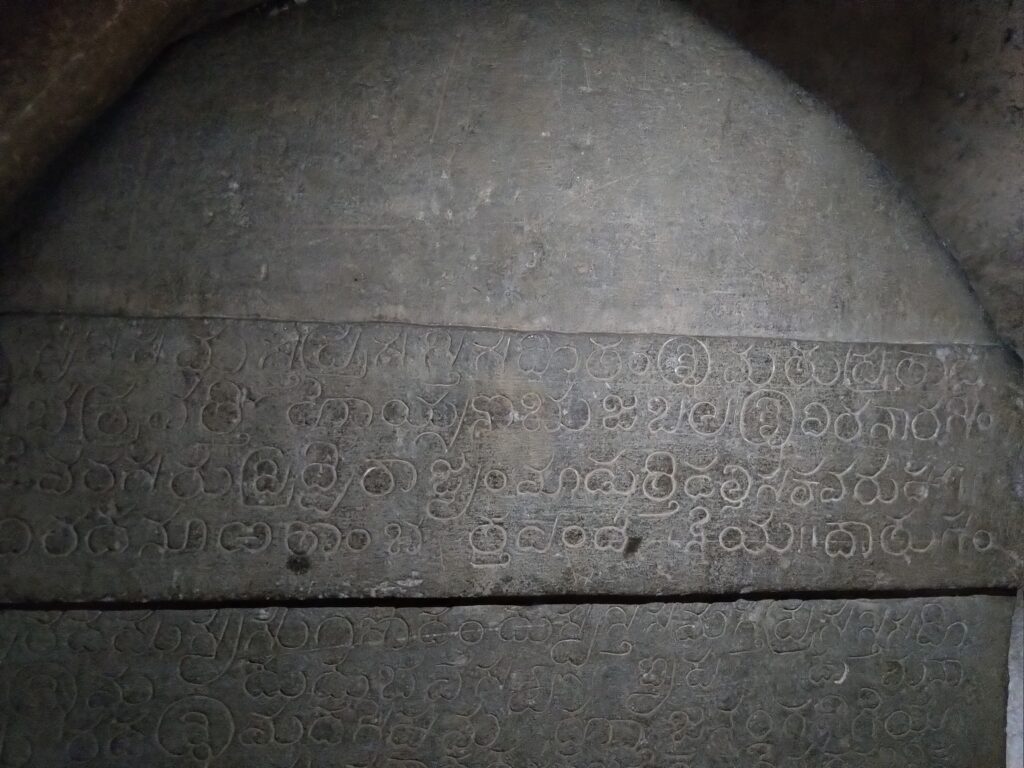 Kasi Vishweshwara temple was also closed when we went. But here, villagers said they won't open the temple as there has been a death. Just took pictures from outside.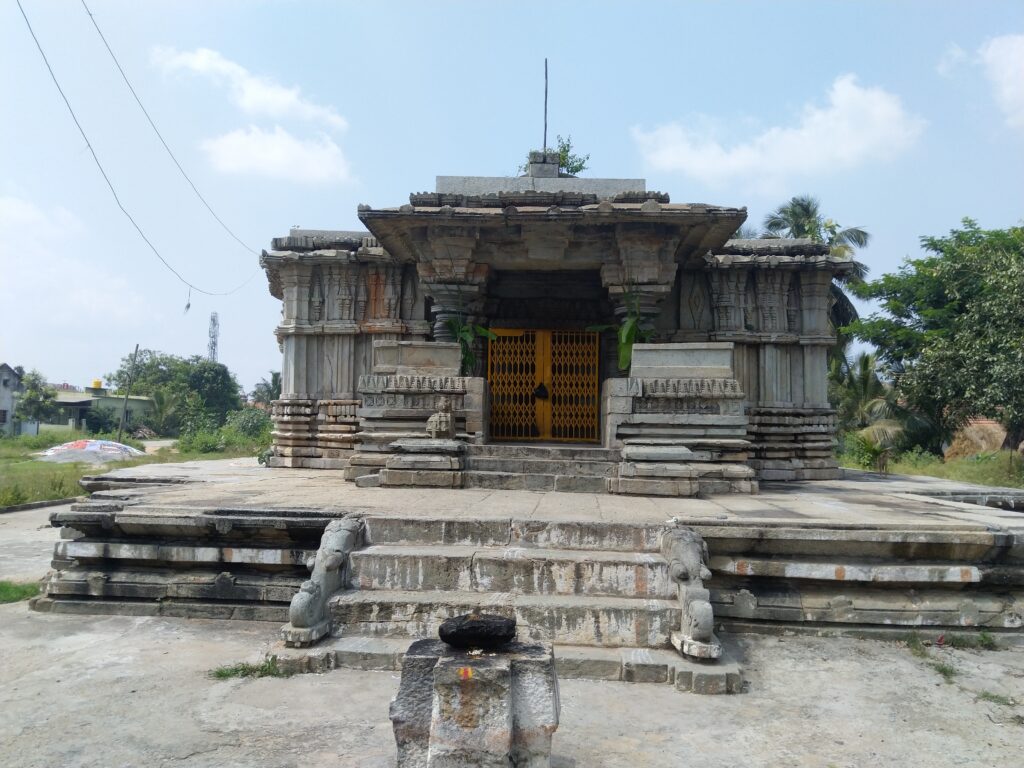 Our next stop was Basaralu.
Basaralu
Let me say this straightaway. Basaralu temple is magnificent. It is not about beauty, like say Belavadi temple. But I loved every bit of it.
The temple has beautiful idols of Sapta Matrukeyaru, Saraswati, Linga, Naga Nagini carved out of a single stone, Suryanarayana, Mahishasura Mardini, and Gayathri inside. We were not allowed to take photos of these deities though.
A guide is available to walk you through the temple and tell (rather obvious) stories about it.
Some sculptures on the walls.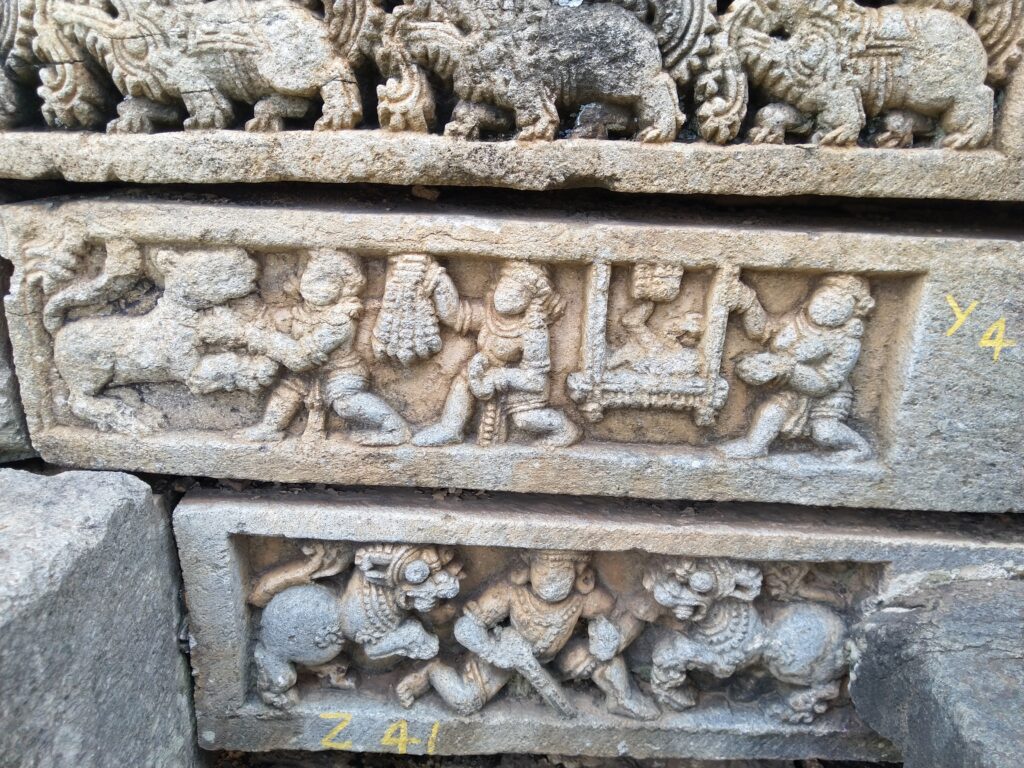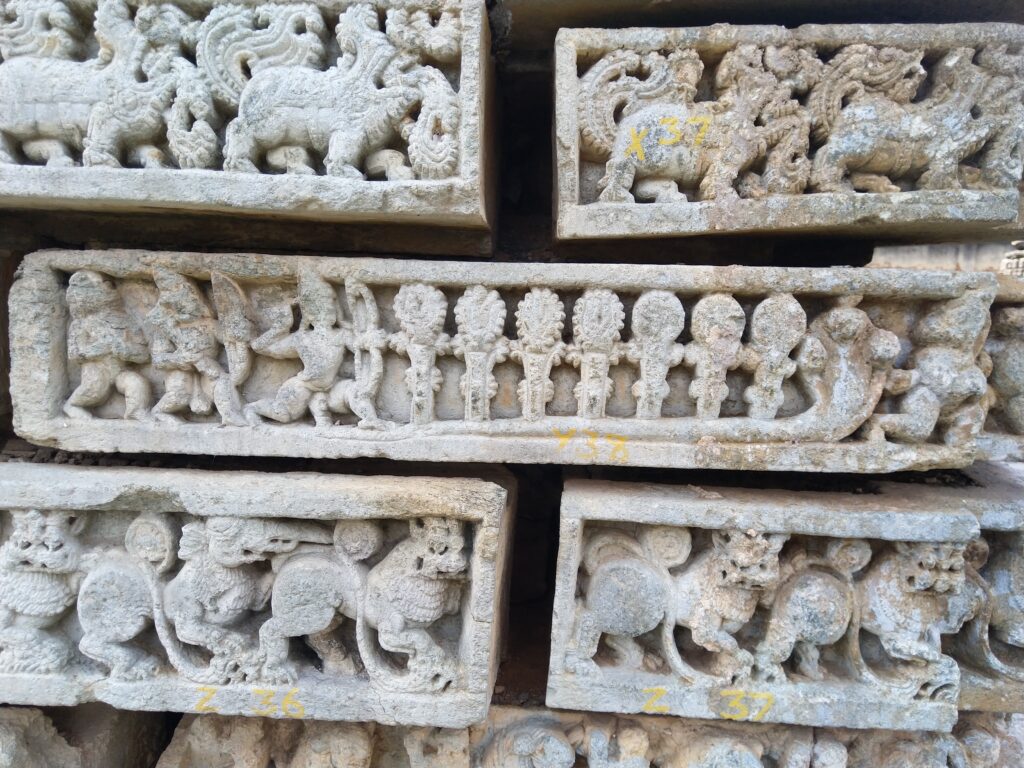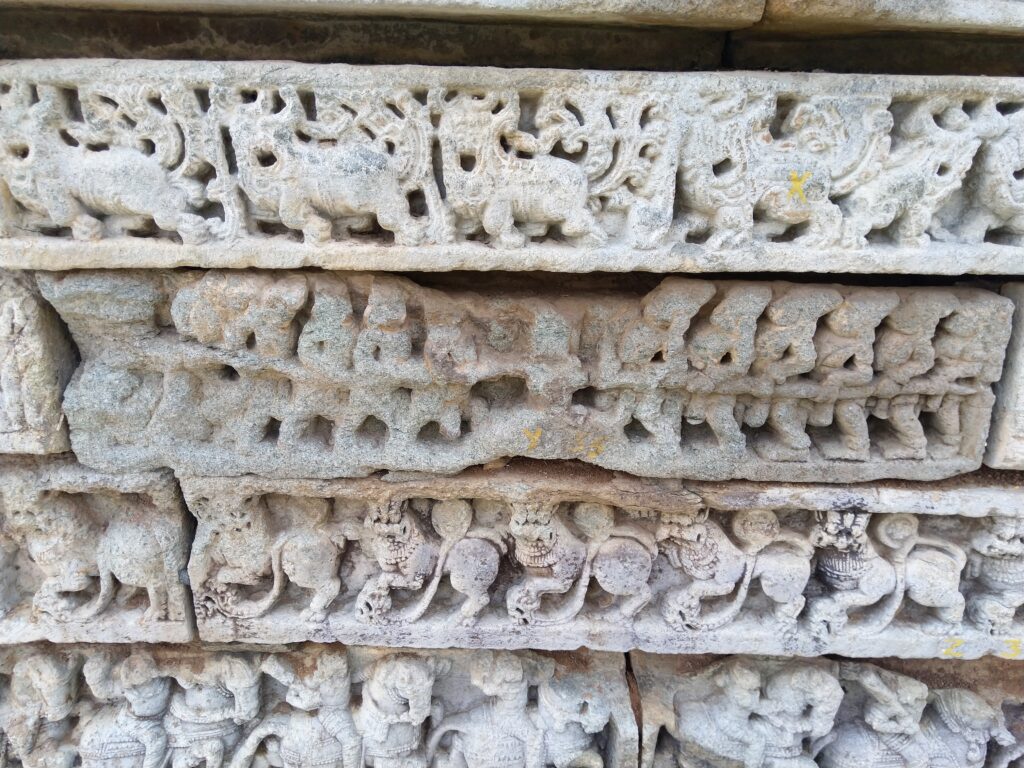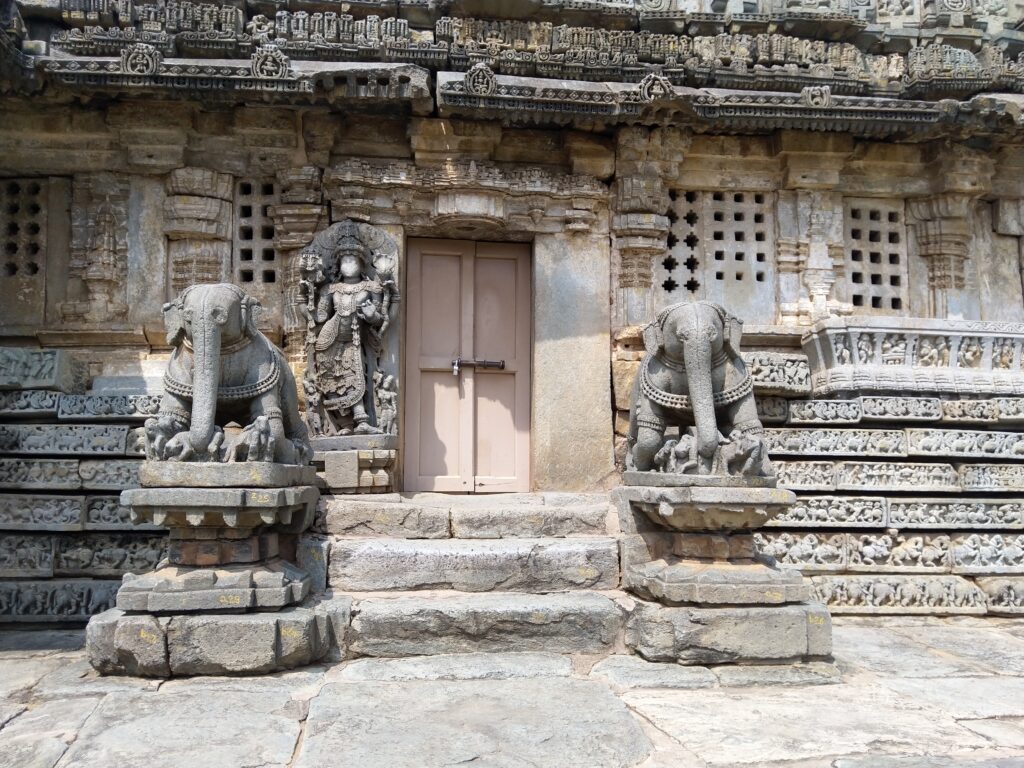 If you are interested in sculptures and the stories they say, you will easily need an hour to go around the temple.
The huge dhwajastambha in front of the temple. Wonder where he is looking at and why.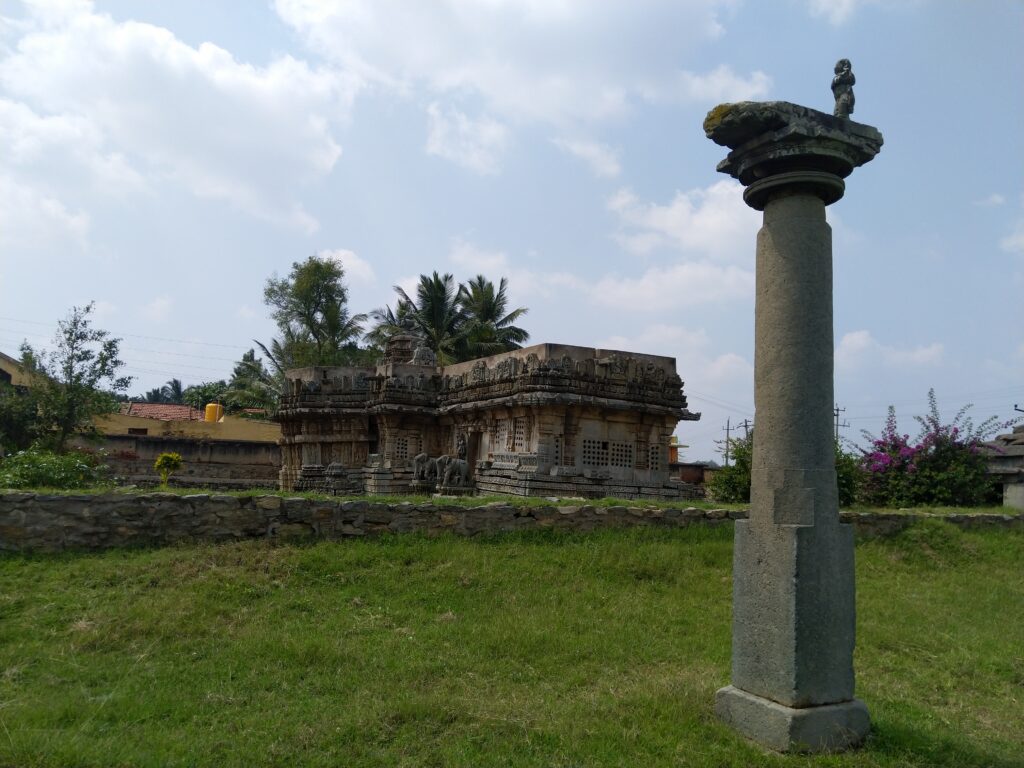 Somewhat unsatisfied, we left to Santhebachahalli. I will read about this temple and come back.
Santhebachalli
Santhebachalli has two Hoyssala era temples – Mahalingeshwara and Parvati. A road divides the lake and the temple below.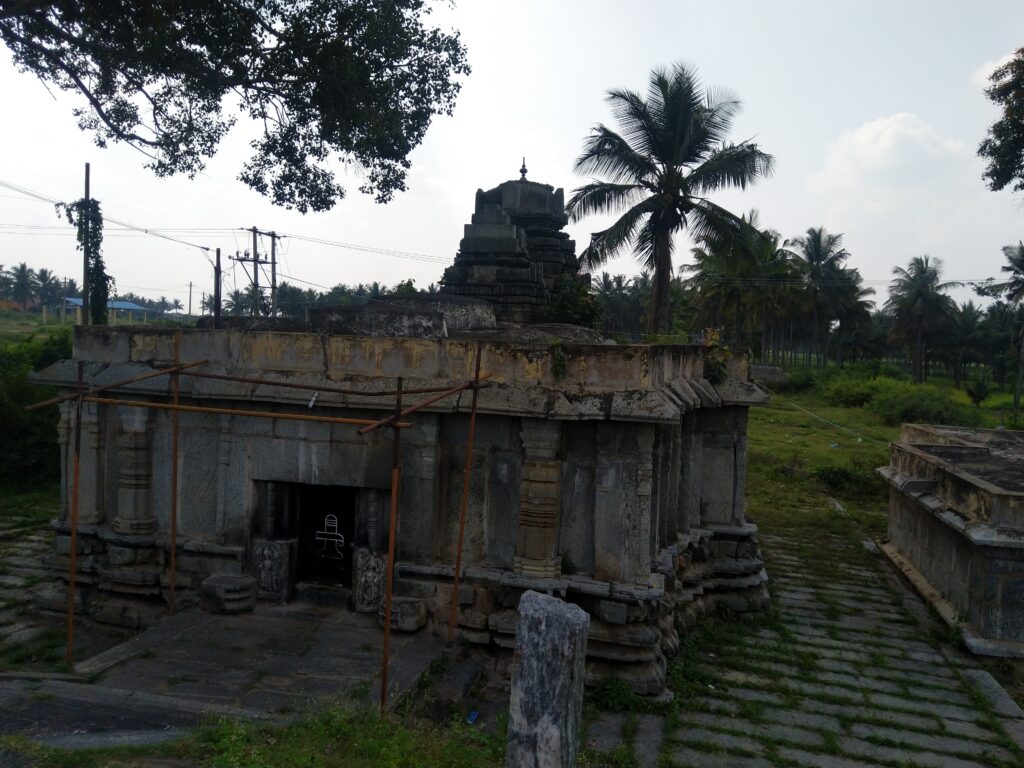 Goddess Parvati

Goddess Parvati with Basavanna

Front view of the Parvati temple
As usual, when we scouted for someone who will give more details about the temple, we were guided to Patel Sampattu, a village veteran and an authority on these temples. He gave a good insight of the temple history and its surroundings. Here is the summary.
Hoysala king Vishnuvardhana and his chieftain were on a visit to Melkote. On their way back to Belur, the king fell in love with a girl bathing in the lake near Malagur. In her remembrance he constructed the Mahalingeshwara temple here. Inside the Mahalingeshwara temple, there was an idol of Lord Brahma and Lord Narayana. Now only Brahma idol exists.

Patel Sampattu
Veerendra Heggade has renovated this temple as well.
He spoke about a lot of other temples. Among those, we learnt that Kambadahalli was on the way to Bangalore and added to our itinerary.
Kambadahalli
Kambadahalli is another beautiful place with lack of information. Though Hoysalas have constructed Jain temples, I don't think this is one of them.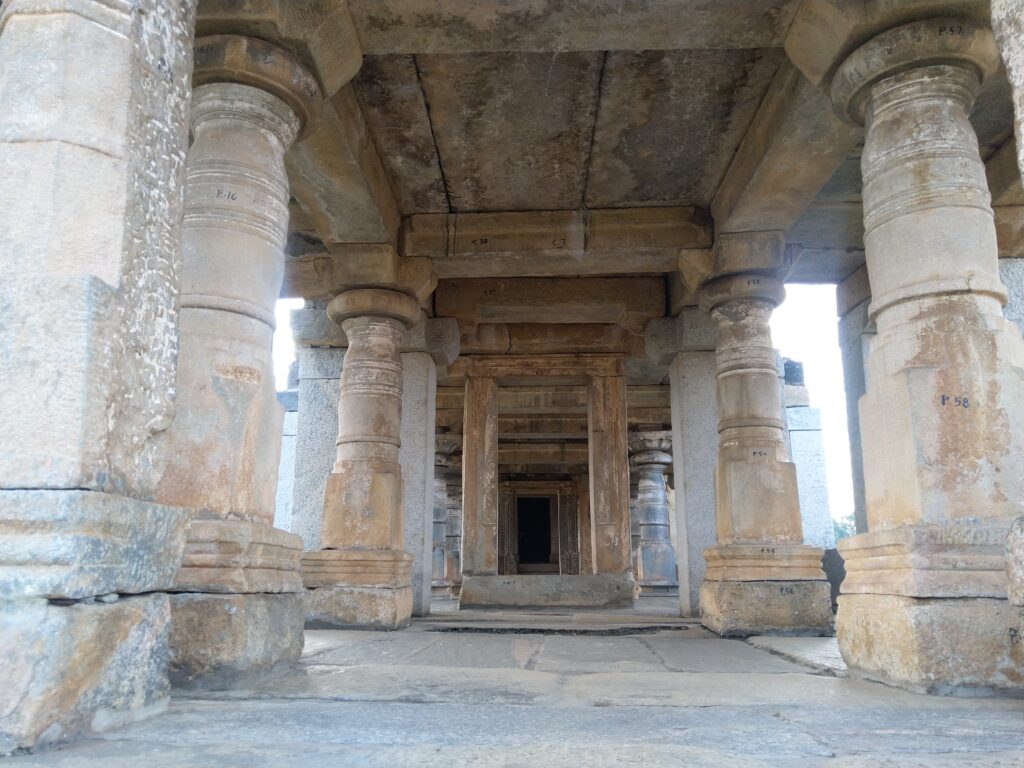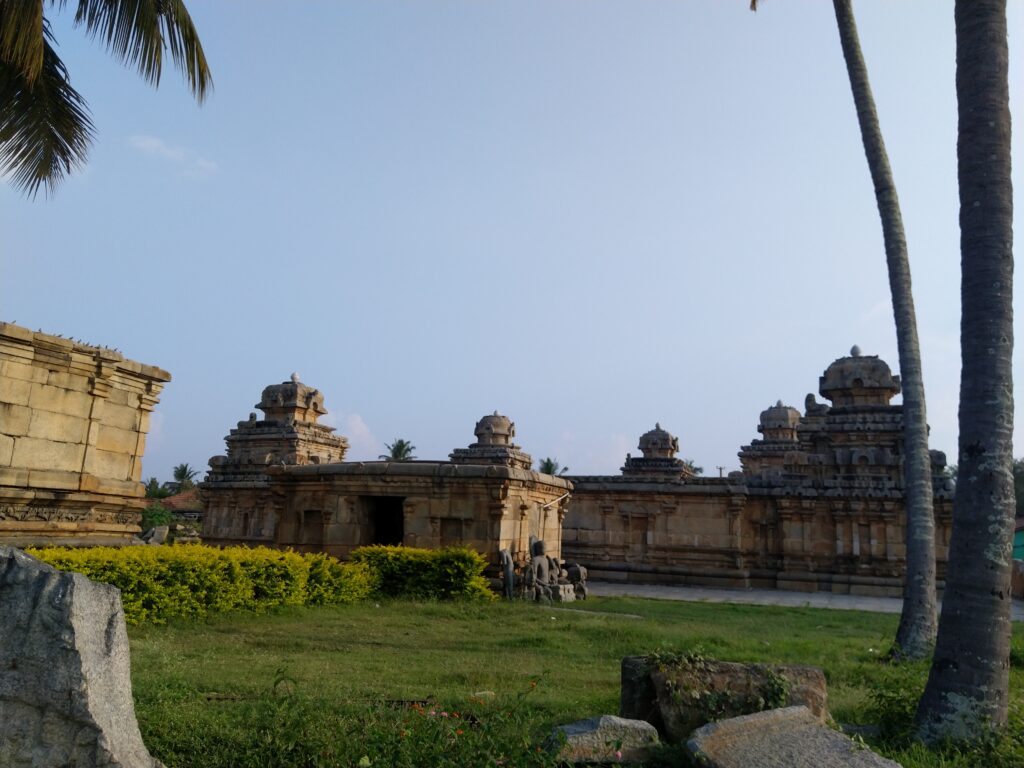 The highlight of this place is the huge pillar erected overnight on a platform of about 15 feet. Apparently, the name of the place is derived from this pillar (Pillar means "kamba" in Kannada).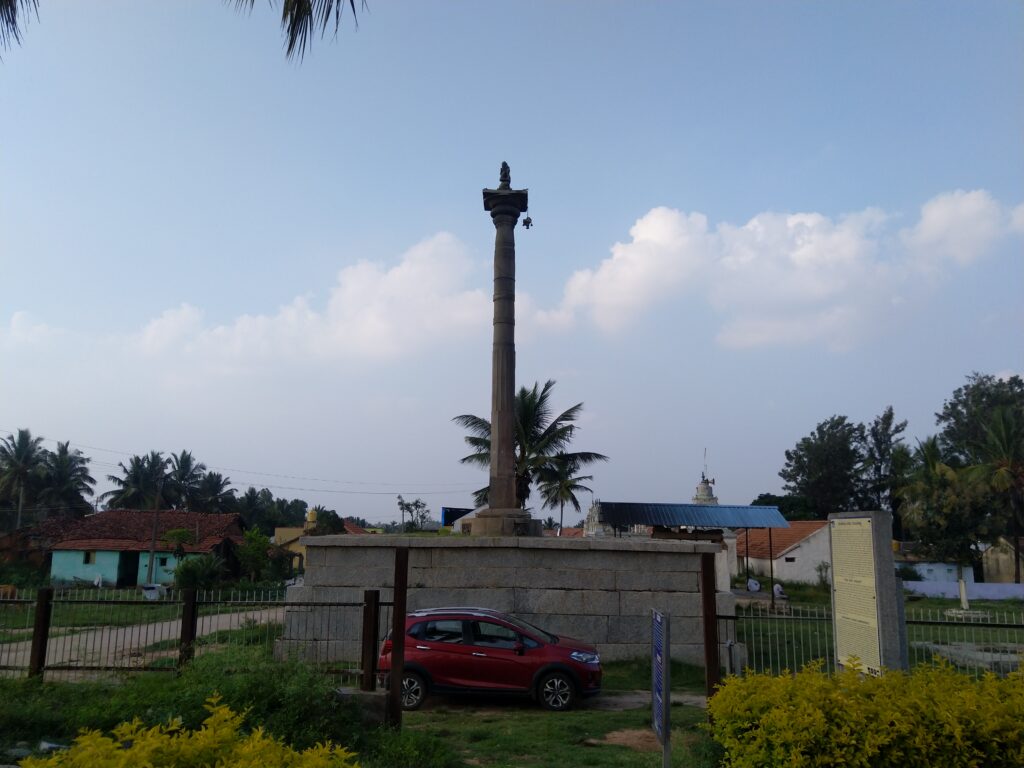 Sidewing:
A compound wall separates the main temple and the dhwajastambha in Basaralu. Again, no one knows why.
The entrance of the Basaralu temple slightly towards the right of the main entrance. And, after we enter the temple, we have to turn left to see the main deity. This is very unusual and I am sure there is some reason behind this kind of construction. We checked with the guide, but he didn't have any answer.
Parvati temple in Santhebachalli is not locked.
A student by Nanjegowda, from Doddakyatanahalli near Santhebachalli, who failed in 10th standard exams broke the Brahma idol in frustration. As luck would have it, he passed the exam in the next attempt, but lost his hearing and memory later.
The trend of calling Hoysala temples as Chola temples continued in all these three places.
Information about Hoysala temples from locals seems to be drying up. I am not too keen on what is written in books or internet.