There is always a Hoysala temple I can visit.
Start
Having booked the driver, I was still choosing between visiting my native place, Hoysala temples, and Channapatna, when the Bandameedathanda (BMT) Government Lower Primary School teacher shared pictures of clearing school ground. (More on that in the Volunteering section.) After evaluating the native place-BMT combo and Hoysala temples-Channapatna combo, I decided to stick to Hoysala temples only.
Factors that worked in its favor:
Achieve a milestone
Come back by 6pm or so and meet a friend at Orion mall discuss some activities for Deepa Academy for Differently Abled.
Route plan: Bangalore – Bogadi – Aghalaya – Kikkeri – Tenginaghatta – Tholasi (Tonachi) – Bellur – Bangalore
We started at 6.45AM.
Bogadi
Remnants of Jain basadi. 🙁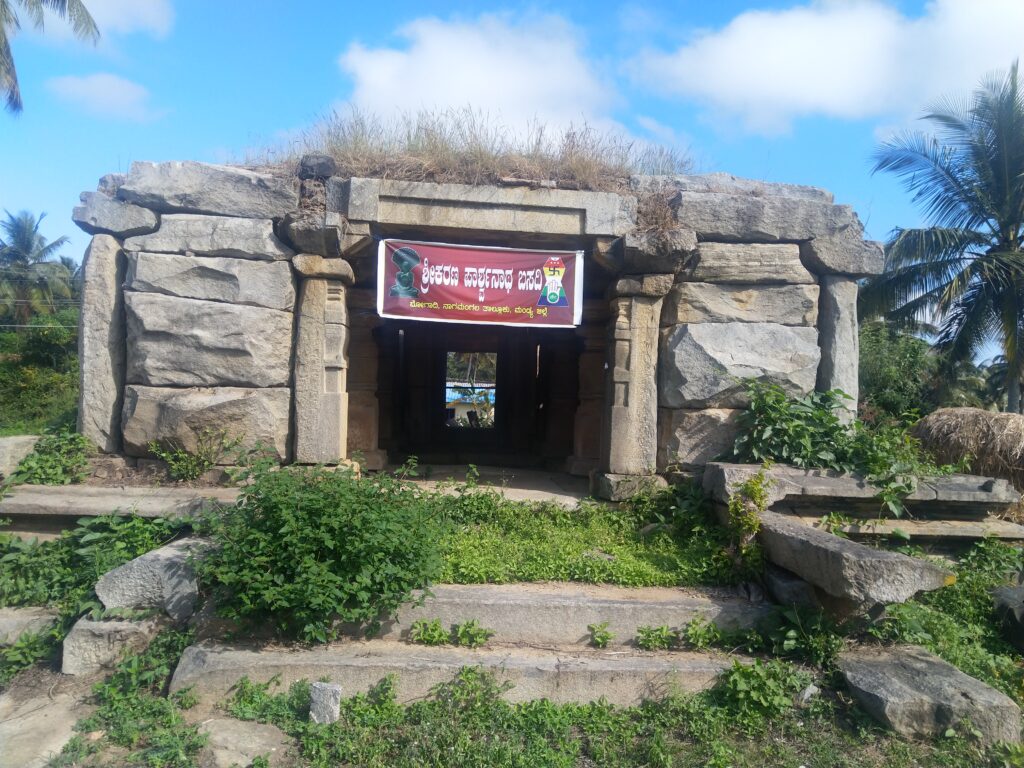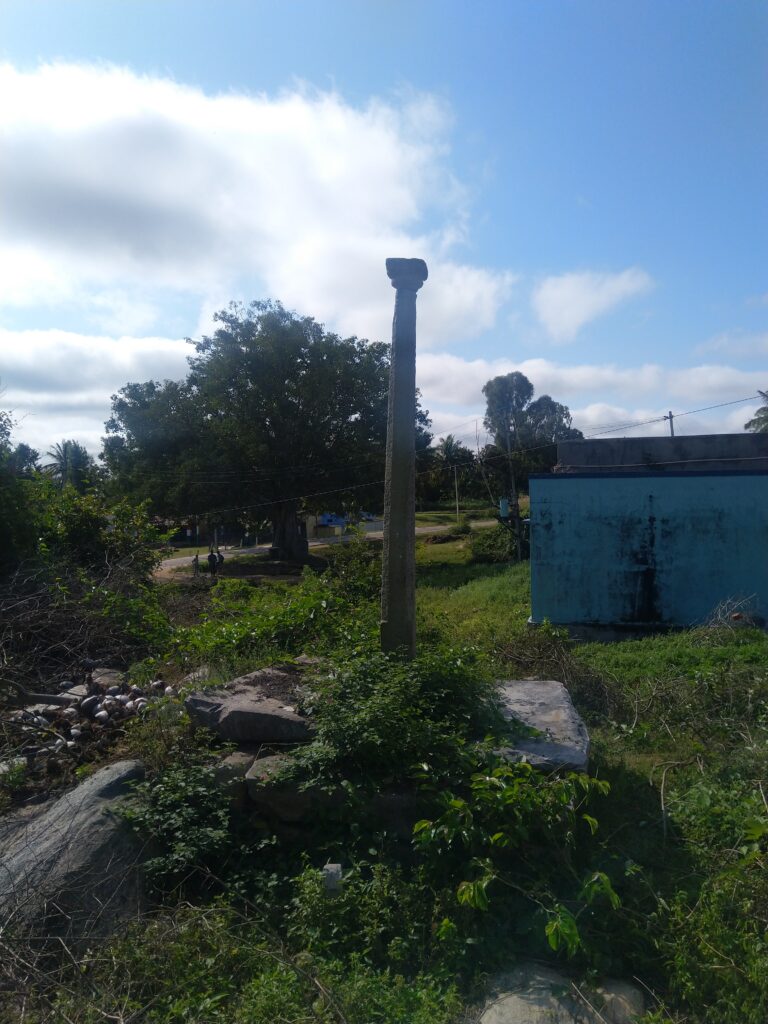 Disappointed with the start, we left to Aghalaya. On the way, I called the priest about our visit.
Aghalaya
Aghalaya was earlier known as Hagalaya. Haga apparently means sin. Laya means destruction. This temple was constructed to wash off sins of a Hoysala chieftain.
Aghalaya is a trikuta linga temple – Someshwara, Malleshwara, and Gangadhareshwara.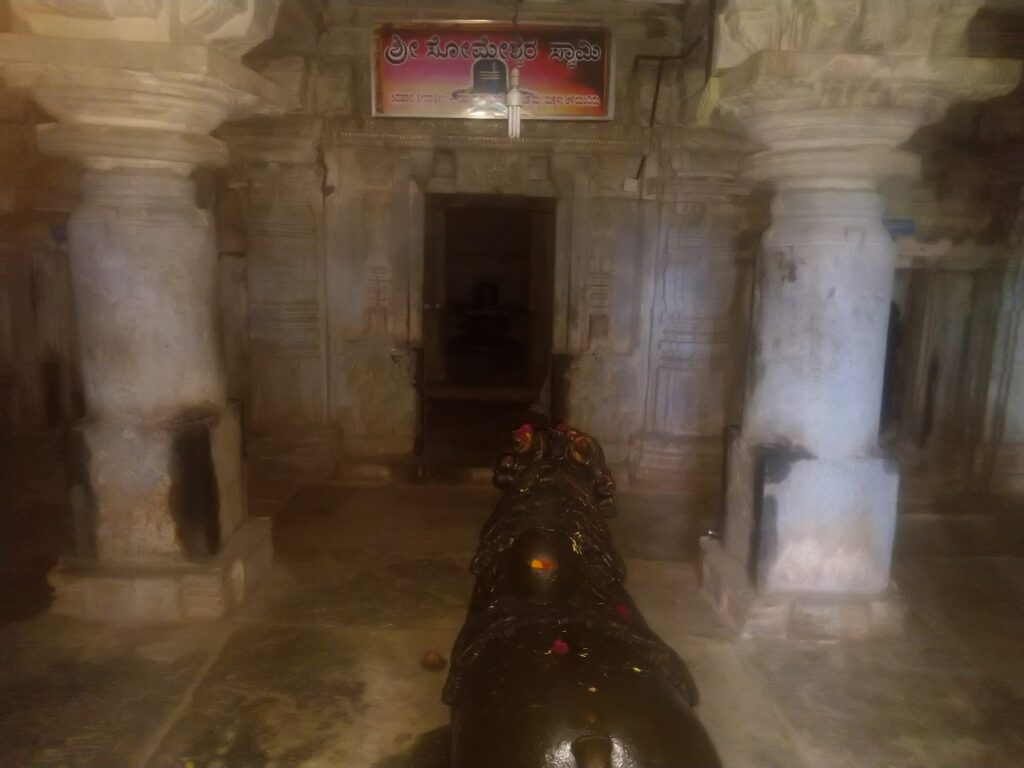 By now, I could identify a pattern in Shiva temples built by Hoysalas. All these temples have idols of Saptamatrukeyaru (see my earlier post for the list of 7 Goddesses), Ganesha, Subramanya, Suryanarayana and one form of Vishnu. This temple was no different. In addition to these, there is an idol of Mahishasuramardini for every Shiva outside the sanctum sanctorum (garbhagudi).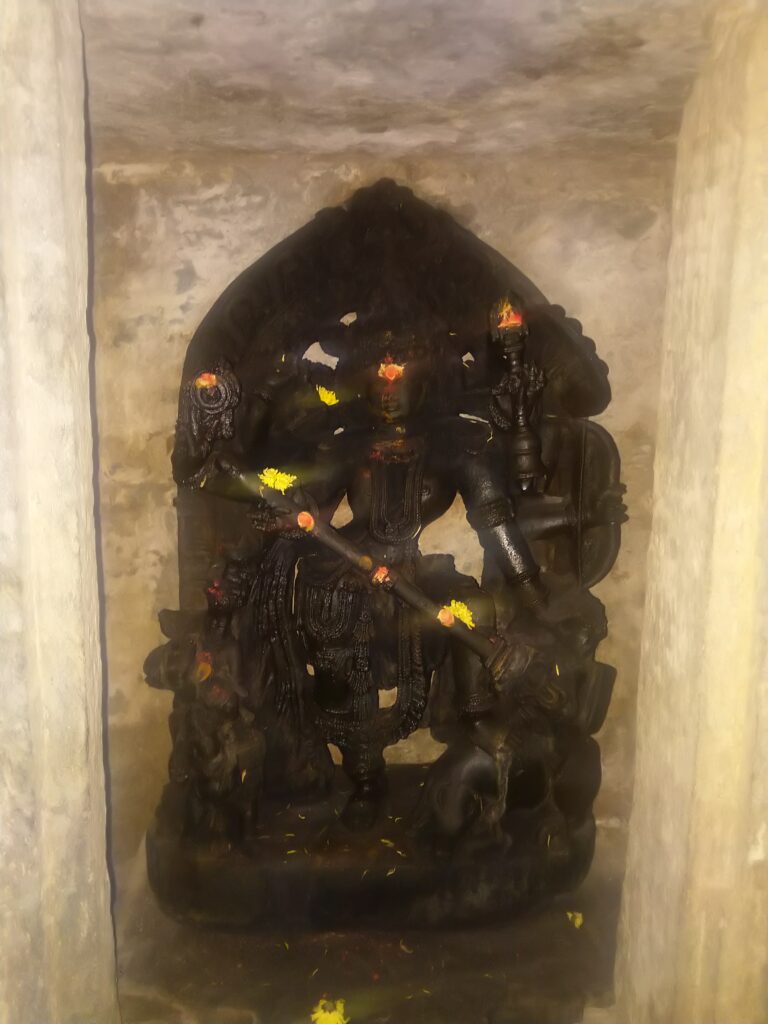 The temple was renovated by Shri Veerendra Heggade of Dharmasthala Manjunatha temples in 2005. The area outside the temple complex is not maintained well.
Kikkeri
Kikkeri is the hometown of famous Kannada poet, K.S.Narasimhaswamy. The Brahmeshwara temple here is very popular.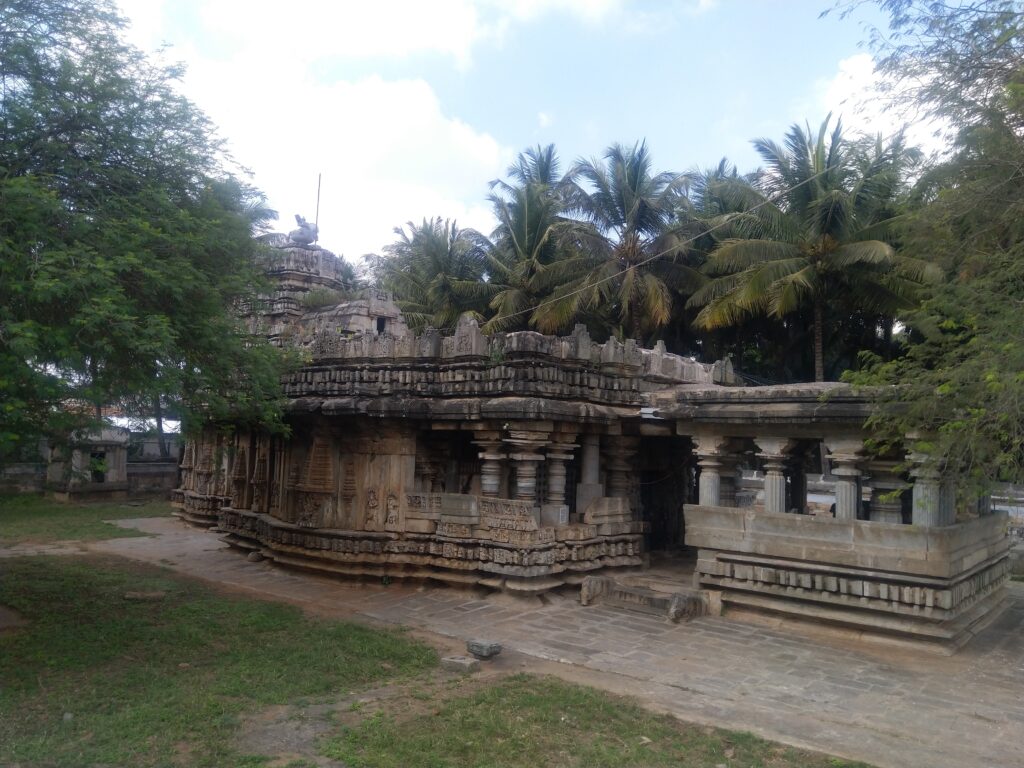 The temple is managed by the father-son duo, with father as a full-time priest and son taking care of other activities along with his day job elsewhere. Both are very friendly and knowledgeable about the temple history. Here is the summary of what I gathered from them.
The temple was constructed in 1171 A.D., by a team led by the Hoysala chieftess, Bommayya Nayaki. The story is depicted on the herostone.
The main deity, Brahmeshwara derives his name from the Brahma at the entrance of sanctum sanctorum and Eshwara idol inside. Eshwara is guarded by Shrungi and Bhrungi at the entrance. Since Brahma is not worshipped directly, the dhoopa (smoke from incense sticks) reaches him through Eshwara.
The Suryanarayana idol is flanked by Vishnu on the right and Shiva on the left. The usual deities Saptamatrukeyaru, Ganapathi, and Skanda exists here as well. The female deity is represented by Chamundeshwari killing three demons.
Unique factors:
Rati-Manmatha story at the entrance of Sanctum Sanctorum.
Kaalabhairava with a demon's head in one hand, a butcher's knife on the other hand and a dog licking the blood dripping from the severed head. Interestingly, the expression on deity's face is very gentle.
Ganeshani, the female form of Ganesha, on the pillar.
We were running way behind our schedule. So we promised that we will visit again and spend at least 1.5-2 hours with them to get a more detailed walkthrough of the temple. If you think it is an exaggeration, well, let me tell you that the herostone in front of the temple itself needs about 15-20 minutes of our attention.
From there, we headed to Tenginaghatta.
Tenginaghatta
Till about 5-6 years back, the Tenginaghatta temple was in a relatively better shape. But now, it is in ruins. I struck a conversation with brothers working in the farm nearby and they gave me the history of this.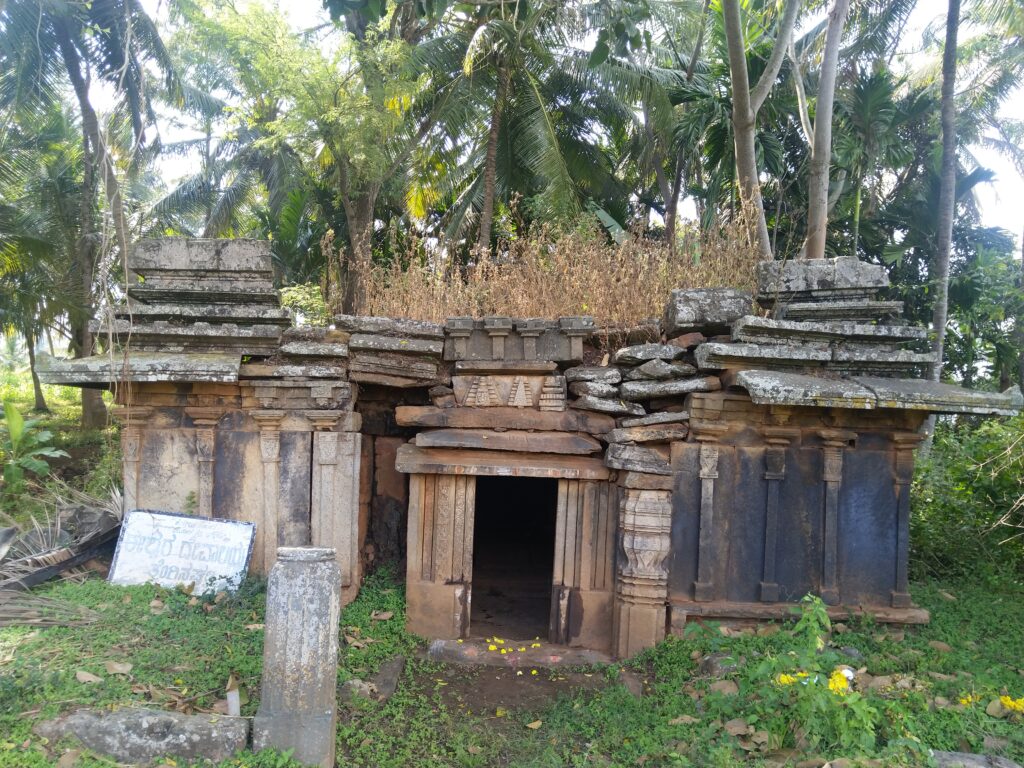 This temple (well, just like many other temples) was constructed in a day. As an evidence, we can still see some unfinished idols around the temple.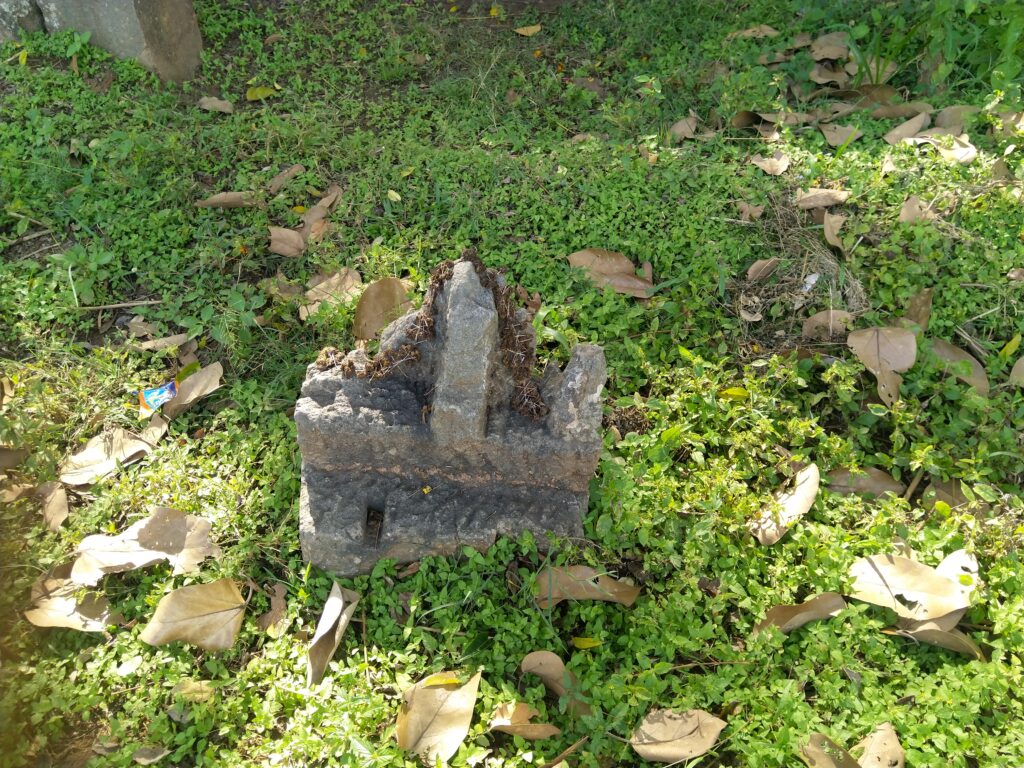 The grinding stone used by construction workers back then is still here.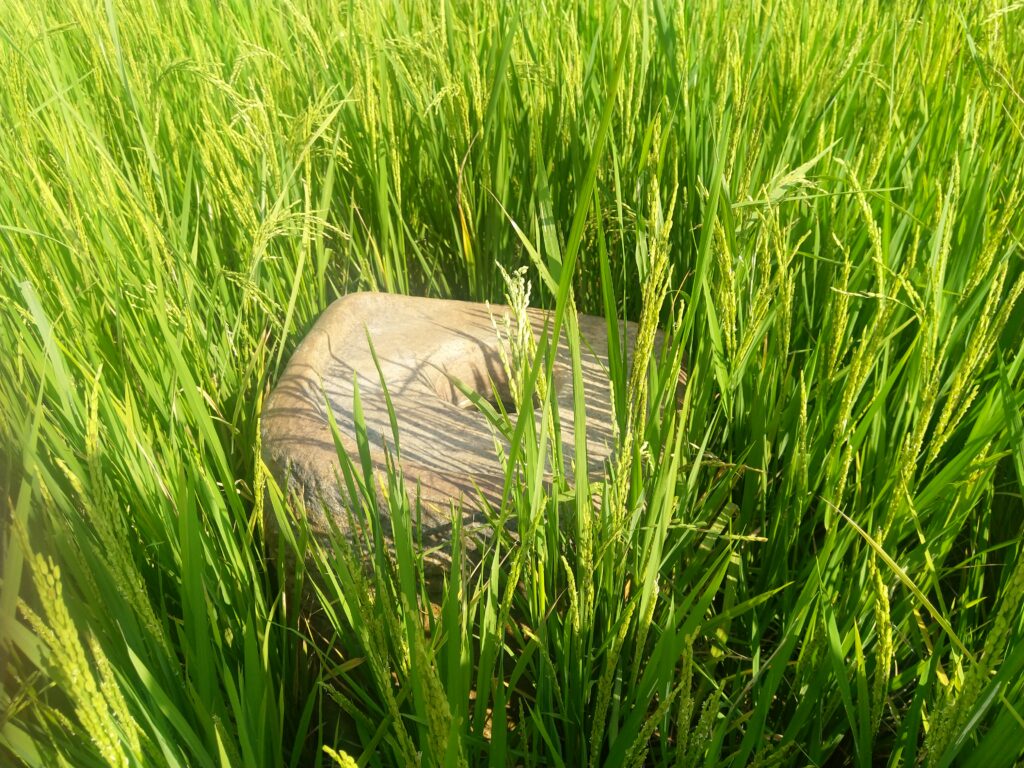 The herostone is dumped in a field behind the temple.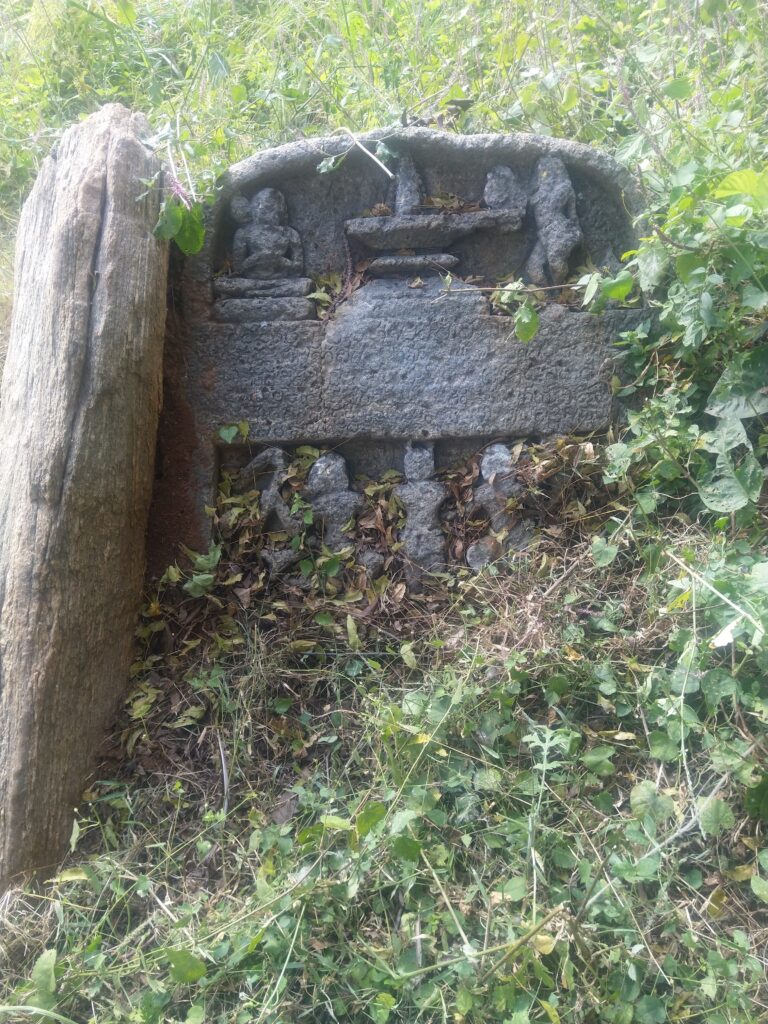 Our next stop was Tholasi.
Tholasi
Villagers were wondering why we even came looking for the temple there. They were totally clueless about the "historical temple" in their own village and guided us to some random places.
The only common statement among all those who guided me was "some old temple was there, now it is rebuilt." But everyone, including a priest, showed a different "rebuilt" temple, one of which was in another village altogether.
We started back to Bangalore from here. Stomach permitting, we thought of covering the Madhavaraya temple in Bellur since we had to pass through Bellur Cross anyway.
Bellur
Bellur is a relatively bigger town.
My first thoughts on entering the temple was "Damn, look at those brand new pillars. Even this temple is spoilt under the guise of "renovation" or I am at the wrong place". But the temple priest told me all these are good old pillars which they got cleaned using some unique method. Might impressed.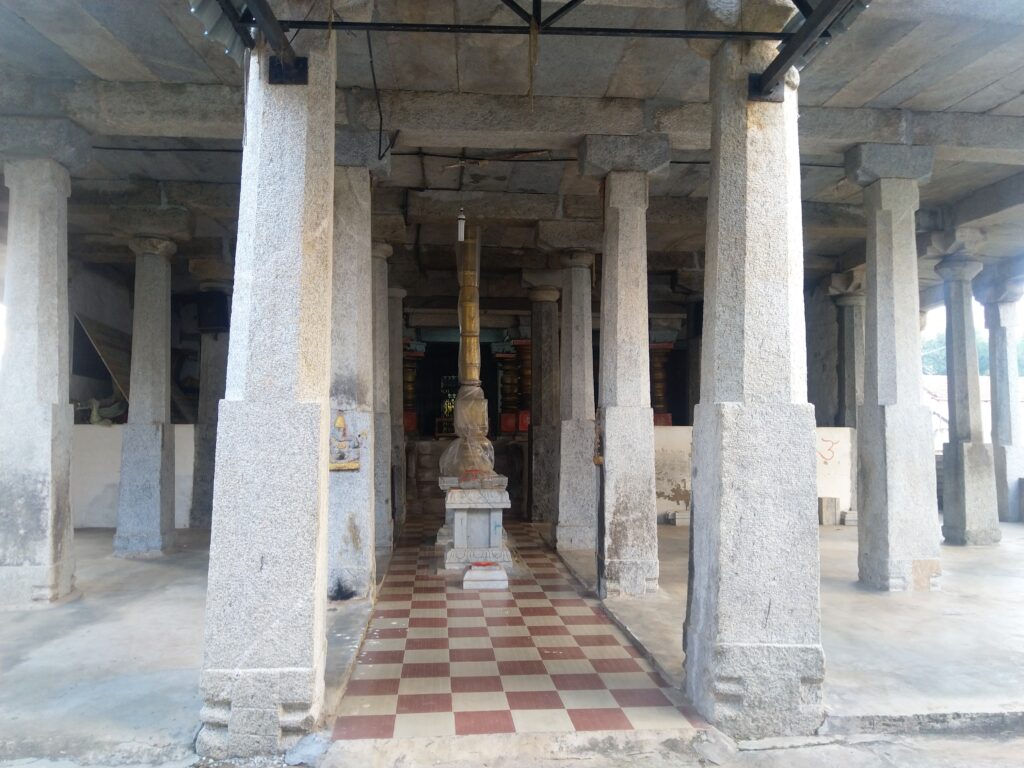 The temple was constructed by Perumal Dandayanayaka and main deity here is Adi Madhavaraya, a form of Vishnu.
Though the priest was a nice person, somehow I felt he was not too keen on talking much. After missing lunch, even I was not in a mood to grill him much. So I just left appreciating him for maintaining the temple so well.
On the way back, we had some snacks at Hotel Mayura and reached Bangalore late evening.
Sidewing
Finally made it to the Dhaba-kind of place next to Shark Food Court on Hassan highway for breakfast. Food was worth another visit.
In Tenginaghatta, Karthiks maasa (usually end-October to end-November) festivities are performed by farmers. Rest of the year, it is done by the priest.
Tholasi is also known as Tonachi and Tulasi.
With this, I have visited all temples mentioned in the book, Hoysala Temples of Mandya and Tumkur Districts by N.S.Rangaraju, published by Prasaranga, Mysore University.
Decided to take a break from Hoysala temples for now. It is getting monotonous and I am losing interest.