It had been a long time since I went on a trip on my own. An I, Me, Myself kind of trips which I enjoy the most as it gives me the freedom to do what I want to do, how I want to do, and when I want to do was long due.
I wanted to visit the Mandaragiri jain temple and the Jayamangali Blackbuck reserve forest ever since I read about these on www.payaniga.com more than a year ago. And, I was very keen on making this a Dio trip (instead of taking the car out) as they were less than 200 kms from Bangalore. I discussed about this a couple of times with my cousins and friends but somehow the trip never materialized.
Finally the time had come. The trigger was that my Dio had to go on a long drive before I give it to the next service. I decided to go on my own.
The start…
Even though it was a short distance trip I started early at 6.30 so that I can get back to the city limits before it gets dark. The PES College-side entry of the NICE road was closed for some repair work. So I reluctantly took the Outer Ring Road route towards Tumkur road for the first time. I was very surprised that the road was pretty good and except for couple of signals, I could easily zip through all the way to exit. After that I took the flyover to Tumkur Road. Soon, it was breakfast time and I was weighing my options if I had to skip the overcrowded Kamat. Much to my delight, I noticed couple of new restaurants — Kamadhenu and Vrindavan. I stopped over at the Vrindavan restaurant. The taste was good and staff was quite courteous (probably because they had started just 20 days back).
Mandaragiri
Mandaragiri is also known as Basadi betta and Basti betta. It is on the way to Tumkur.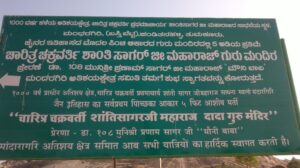 Foothill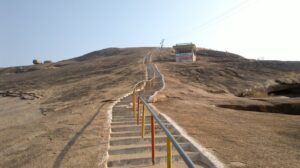 A climb of 438 steps took me here.

Some pics in and around the temple.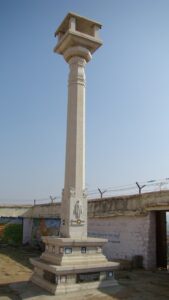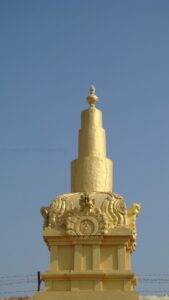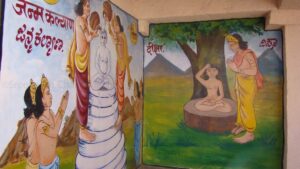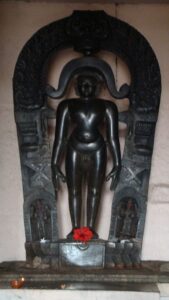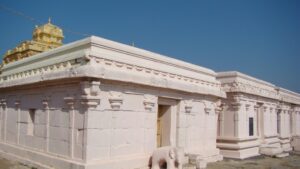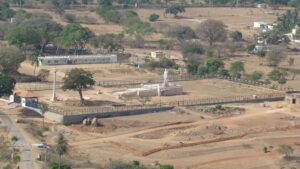 In search of the Blackbuck…
My next destination was the Jayamangali Blackbuck reserve (village name is Maidanahalli). This is on the Madhugiri – Paruvoor – ID Halli route. Though the blogger on Payaniga had clearly mentioned this route, I forgot the "Paruvoor" part of it and headed towards ID Halli directly from Madhugiri. After almost reaching ID Halli, when I asked for this Maidanahalli, villagers asked me to take a drive further take right and right again till I see this board, which effectively meant an U-turn towards Madhugiri!
On reaching Jayamangali, another disappointment awaited me. The officials there told me that blackbucks will be taking rest now and asked me to wait till atleast 3 pm. Anyway, I persuaded them to take me around and this is what we saw.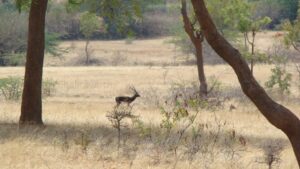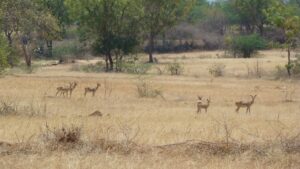 As expected, I hardly saw some 5-6 blackbucks. Otherwise, it was mostly deer. But this blackbuck fight made up for all the disappointment till now.
After a wonderful, but tiring day (caused mainly due to driving through bad roads), I was back where it all started by 6.30.
Route
Mandaragiri: Take a right about 8-10 kms before Tumkur (look for the arch on your right) and travel further for about 3 kms to reach the foothill of this centuries old Jain temple.
Jayamangali: From Madhugiri, take the Paruvoor route and ask / look for the "forest department jinke board" (Forest department's board with a Deer picture on it). Take a right about 8 kilometers after Paruvoor and drive along a very uneven, gravel-ridden road for 3 kilometers to reach the gate. The forest department organizes a Scorpio safari to take you around the area.
Sidewing:
The last leg of 3-km road leading to the Jayamangali forest gate has been in that condition for years now. If you think your vehicle can't handle it, don't venture.
The priest of the Jain temple was walking down after closing the temple for the day. But he was kind enough to give me the keys to look around on my own.
Last time I was on the Tumkur-Korategere-Madhugiri route, the entire stretch was among the worst roads I had ever seen. Now, the Tumkur-Koratagere part is very good now and I zipped through it. The Koratagere-Madhugiri road is under construction.
Jayamangali forest reserve has rooms to stay overnight. One has to book the room at the forest department office in Malleshwaram, Bangalore. I think it is worth it because the blackbucks and other other animals apparently come to the man-made drinking water facility near the guesthouse early in the morning. Also, one can go on the safari as early 6.30 in the morning. If you love photography, this is something you wouldn't want to miss.
The forest driver got "permanent" on his job recently. He was a temp worker for 25 years!