Back to blogging after more than 3 years. Trigger? Three back-to-back trips.
From now, I will be blogging from WordPress. Blogger has gone crazy. Couldn't even get a proper heading style there.
The start
Unlike many others, I had not started any "healthy habits" like physical exercises, yoga, dieting, eating healthy food, etc., during Covid-19 period. (Heck! unlike others, I was not working from home either). So, when I wanted to return to my sightseeing trips routine, hills and forts-on-hills were still out of question. Now, with Corona in place, crowded places also got into the list of Can't Go places.
So, I was left with fewer choices. And as usual, Hoysalas came to my rescue. But there was another -problem. I lost the reference book on Hoysala. I was left with only one choice. Google.
Additional criteria
Didn't have the patience of going on Mysore road. So skip Hoysala temples towards Mandya.
Had to come back early evening. So skip Hassan as well.
Finally, it came down to the choices in Tumkur district. A quick google search led me to the Wikipedia page on lesser known Hoysala temples. I shortlisted Nagalapura and Tadang among them and started my journey around 7AM on 18th October.
Nagalapura
The regular watchman had a day off on Sunday. His substitute knows very little about the temple. I spoke to the regular watchman over the phone.
Original name: Nagapuri Pattana, which changed to Nagalapura over time.
Temple is 900 years old. It was constructed by the king named Nagaraja.
The legendary Amarashilpi Jakanachari's team worked on these temples.
Main temple, the big one, is Kedareshwara (form of Eshwara).
Smaller temple, inside the village, is Channakeshava (form of Vishnu).
No major festival or events for these temples. However, the gramadevate, Kempamma has an annual event for which chariot is kept outside the Kedareshwara temple compound.
Priest for Kedareshwara temple comes from Kadsur. Channakeshava temple priest comes from Devalakere. They come only in the mornings.
Temple was part of a fort. The ruins can be seen around the temple. (I didn't look around though.)
This was the village entrance earlier. Now the village has expanded much beyond this.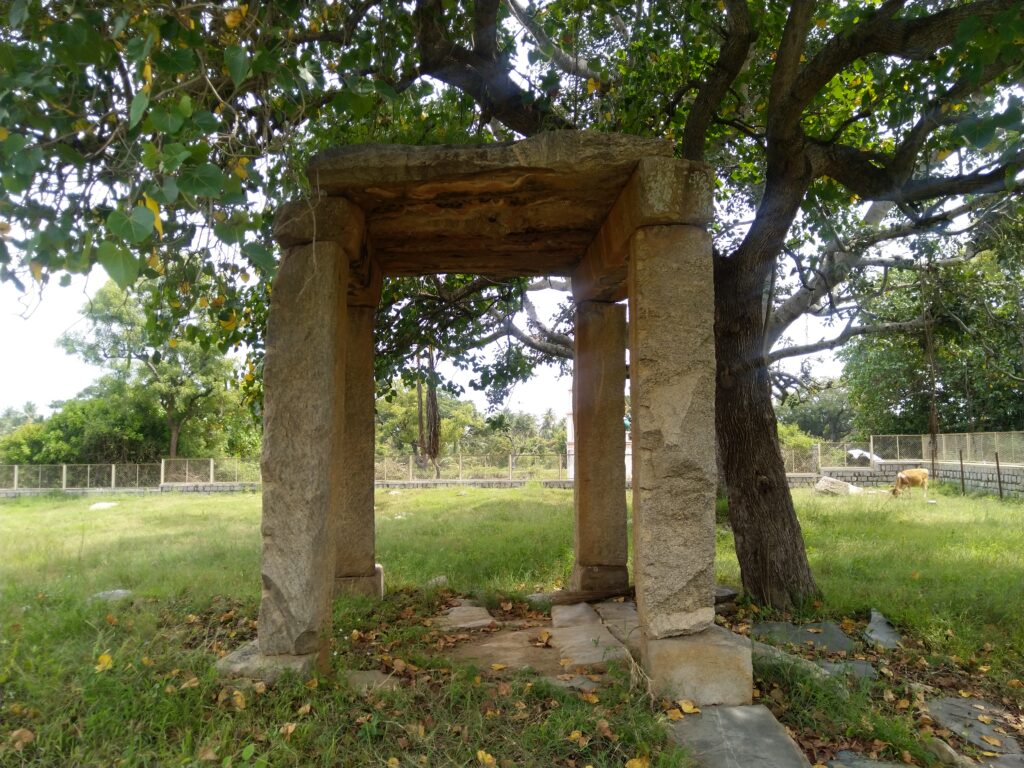 Tadang
Google maps takes you the Tadang from Nagalapura and from there localites will guide you to the temple. This temple is very small, like Aralaguppe. The main deity idol is beautiful. The temple belongs to Muzrai department. The Dasara festival had begun a day before. Deities were decked up to mark the beginning of Dasara.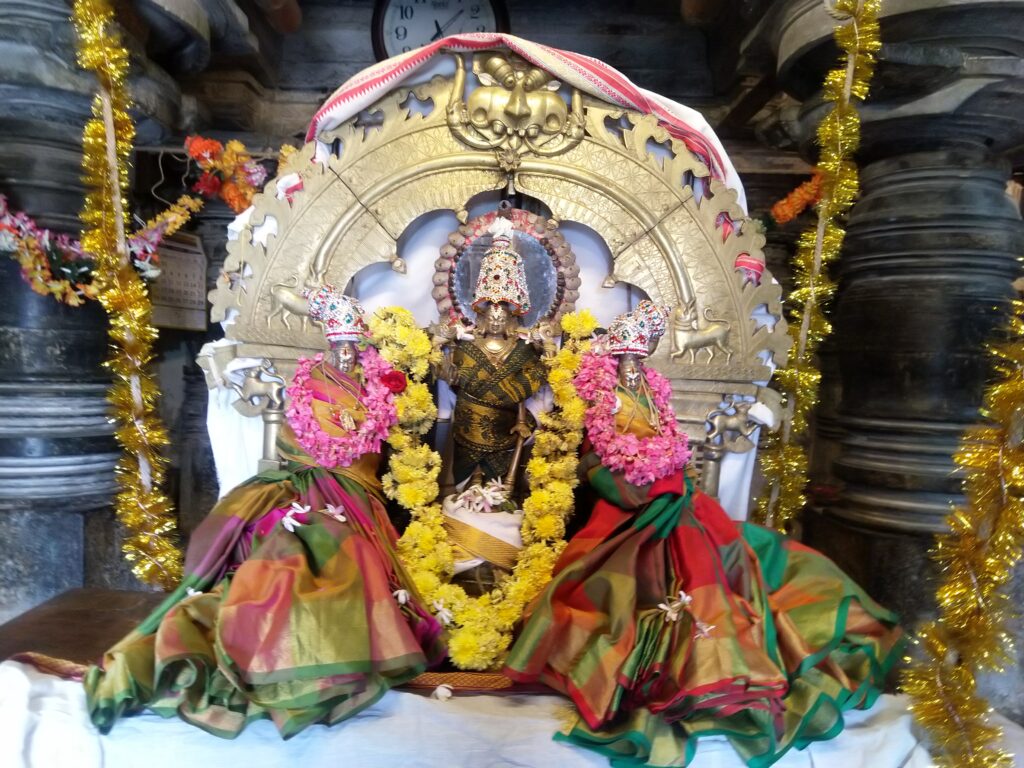 Vijayadashami, the last day of Dasara, is celebrated in a very grand manner here.
Some picture in and around the temple:
Make a wish and throw a coin in this door gap. If it works, the coin falls on the other side of the door. Else, it falls back.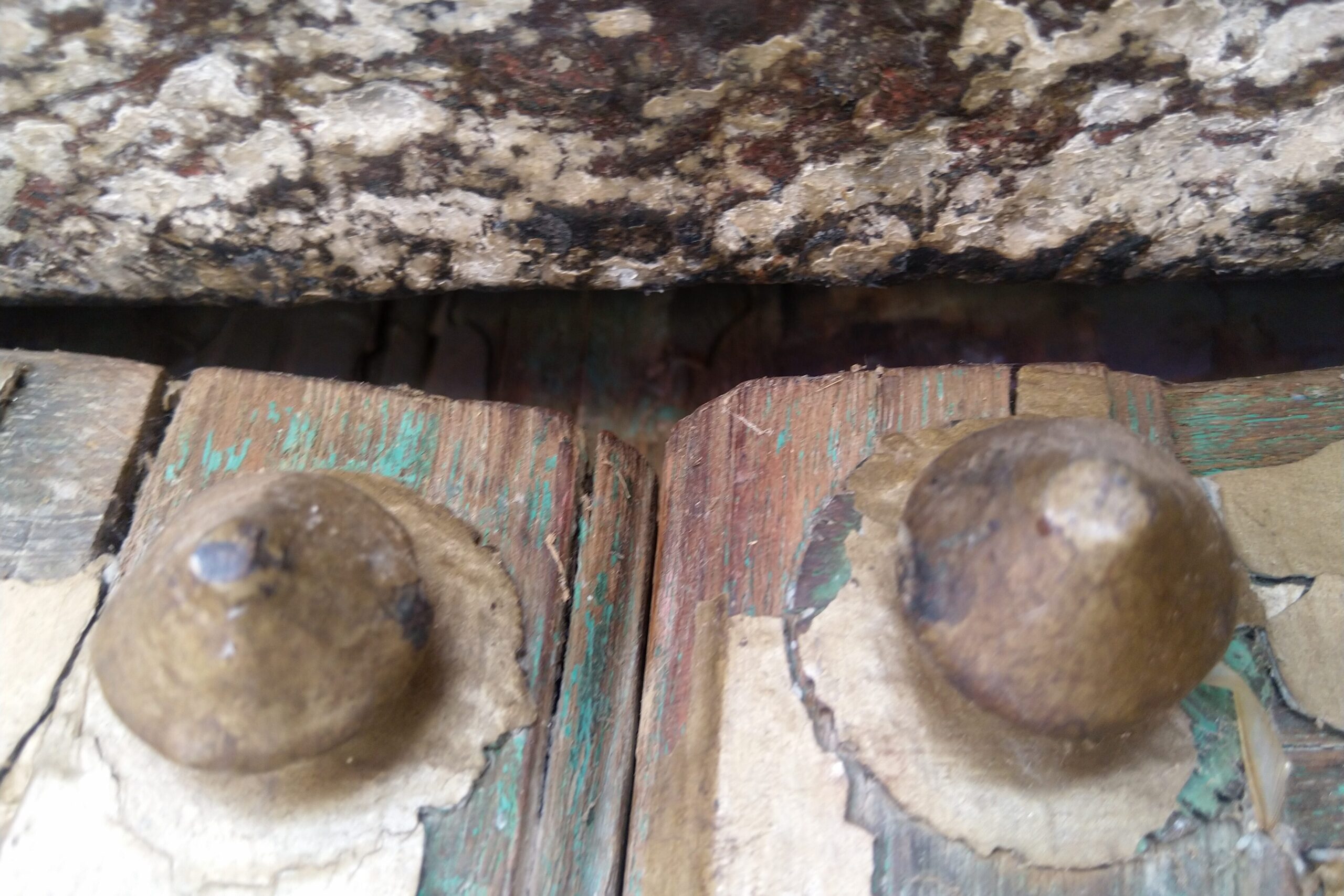 Not much is known about the history of this temple except that it was indeed constructed by Hoysalas. But I am sure there are many stories about the location, the tulasi katte, some idols on the walls, etc., are yet to be uncovered.
Sidewing:
The watchman's grandson studying in 5th standard did not have access to TV or mobile. I showed one of our Samveda classes to him on my mobile. Loved the way he interacted with the video. His grandfather was delighted to see the kid's reaction and told me that he will ask a friend to give him the mobile when he comes down for evening chit-chat.
Tadang temple surrounding is encroached by others. Apparently the management wants to dismantle the premises and renovate it, but is unable to do so due to lack of space.
Many Hoysala temples are renovated by Shri Veerendra Heggade of Dharmasthala.