I was revisiting my posts here last week and noticed that I mentioned about writing a post on the Government Lower Primary School, Bandameedathanda (BMT for short).
So, here it is.
An Unexpected Opportunity
I have had the fortune of participating in many Aviratha initiatives. Among these, its work in Bandameedathanda school has a special place in my heart.
Bandameedathanda is a small village in Gouribidanur Taluk, Chikkaballapur district. The residents are mostly from the Lambani community.

Banda Meeda Thanda is a Telugu word/ phrase. It means Hamlet on a Rock.
It all started with an article about the plight of the school here and the efforts of alumni in reviving it. My friend's sister had written this and she asked if we can help this school in any way.
The school which was closed for 7 years reopened in 2019, thanks to the efforts of its alumni. We were very intrigued by the story and decided to visit the school to understand the needs better.
The enthusiasm and commitment showed by the alumni, villagers, and most importantly the lone teacher Subhan sir gave us the confidence that our efforts will definitely not go waste.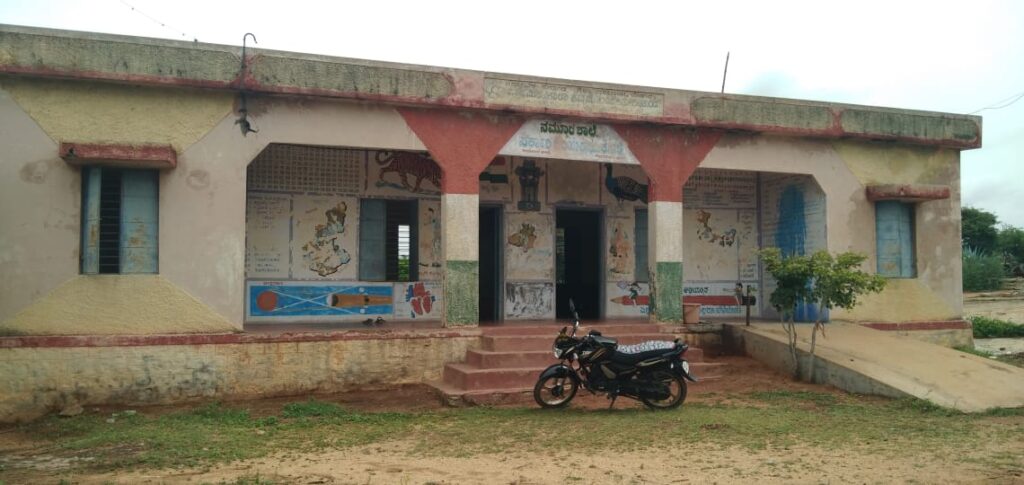 NBD+
Before we made any major promises, we set the expectations right in terms of what we can and what can't do in line with Aviratha's scope of work. We also put some basic conditions like the items we provide should be maintained well and not be misused.
Since it was anyway the season of annual Notebook distribution (NBD) for us, we started with that. We then followed up with stationery, library kit, and sports items distribution. We also conducted some activities and participated in their annual events, thereby engaging with the community more often.
Community Effort
While we were doing all these, the alumni and Subhan sir quietly went about doing their bit for the school as well. They found donors for school bags and uniforms for the students, resolved the administrative issues, cleared the useless bushes and weed on school land, and even got power supply to school. Every time we visited, they had something new to show us.
Building as a Learning Aid
While the facilities inside school improved, the school building still looked bit boring with old paint that was peeling off in many places. Though we noticed it in every visit, we never thought of doing anything about it.
That changed when one of our volunteers brought us the news of some CSR funds. We immediately requested another volunteer (an architect by profession) to come up with ideas. After many cups of tea and several pakodas at Pappu Chaiwala, we finalized some designs.
Government Lower Primary School, Shilpapura
Our model for this school originated somewhat from the way learning aids were put up by the school staff in the Government Lower Primary School, Shilpapura, Kunigal Taluk. Aviratha works with this school on other projects. We wanted to do something similar, but with paints, instead of physical objects.
Our objectives from the very beginning were clear.
Inside walls must be multipurpose, open-ended and aid learning. For example, draw empty circles in which something can be written using a chalk piece. Students, teachers and even other volunteers who visit the school can use this space to conduct some activity such as writing letters and forming words by combining them.
Outside walls must be something attractive. These walls should draw the attention of people and get them closer to school. Once they come, they will see what we have done on the interiors, talk to children, teacher, etc., and learn more about the school. This, eventually, will get more funds from both Government and general public, improve the facilities and increase enrolment numbers.
Lofty ambitions, eh?
Many creative minds joined us to paint the walls and over a series of visits, we did a fantastic job on both the interiors and exteriors.
Our work somehow caught the state education department's attention. Local edition of leading newspaper wrote an article about this just before the Education minister's visit to the area.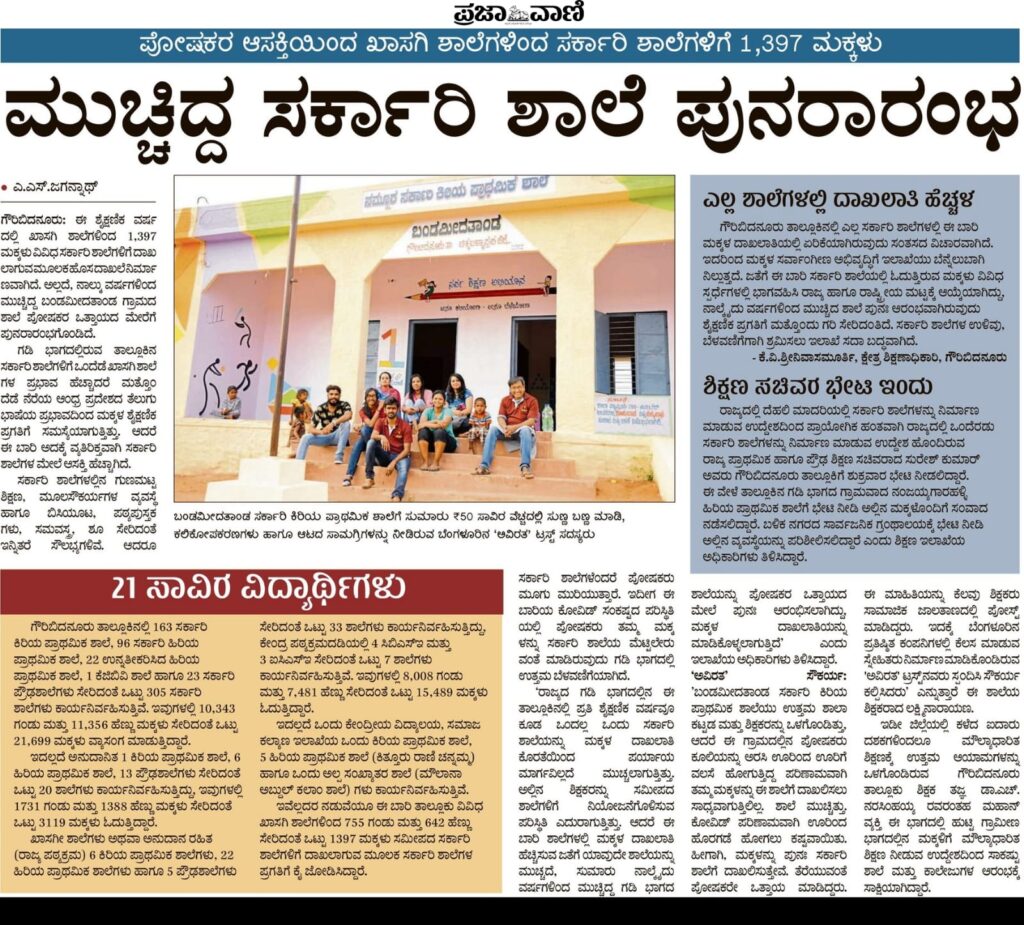 Current Status
The enrolment is now in double digits. We hope the school gets additional teacher as per the rule soon. Thanks to the continuous efforts of Subhan sir and support of the community, the school is getting a compound wall.
We are waiting to get back to school and interact with kids once the pandemic situation improves.